100% Job Guarantee Program
Best Online Data Analytics Course with Job Guarantee
Looking for Data Analytics Course with 100% Job Guarantee within 6 Months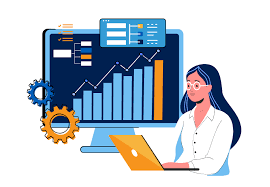 Looking for Data Analytics Course with Job Guarantee ?
APOTAC's Data Analytics Course, where we provide the best training and education in the field of data analytics. In today's data-driven world, businesses and organizations rely on data analysis to make informed decisions and gain a competitive edge.
APOTAC's comprehensive curriculum, experienced instructors, hands-on learning approach, and industry-recognized certification ensure that students gain the skills and knowledge needed to excel in the field of data analytics. Whether you're a beginner or an experienced professional looking to upskill, our course offers a pathway to success.
Join us as we explore the various aspects of APOTAC's Data Analytics Course and discover why it stands out as the best choice for your data analytics education.



Steps to Build a Successful Data Analytics Career
Learning & Skill Enhancement
Job Guarantee Program in Data Analytics
Job Guarantee Program in Data Analytics by APOTAC. When it comes to learning data analytics, APOTAC is the name you can trust. With a rich history spanning over a decade, APOTAC has established itself as a leading provider of quality education in the field of data analytics. Founded by a team of industry experts and data enthusiasts, APOTAC has been at the forefront of revolutionizing data education.
The data analytics course offered by APOTAC is designed to equip students with the necessary skills and knowledge to excel in this rapidly evolving field. Through a combination of theoretical learning and practical hands-on experience, students gain a comprehensive understanding of data analytics concepts, tools, and techniques.
Want to make your Career in Data Science, Analytics or AI ?
APOTAC is the Best Platform for Learning Python, Data Science, Analytics, Machine Learning or AI
Get 100% Guaranteed Job after our Course. Learn from Industry Experts, Call or Whatsapp us for any Query.